Each week, members of our church get together to distribute what we call "Blessing Bags" of food to members of the Rock Hall community. 
We launched this ministry in 2020, shortly after the COVID-19 pandemic began.  Our church members felt moved by the holy spirit to start a ministry of providing supplemental food and hygiene items to those in need in the Rock Hall community.  Donations are supplied from the Maryland Food Bank, the Chestertown SDA Food Pantry and members of the Rock Hall Church.  
Our Blessing Bag program has continued to grow over the past several years.  We now support 30+ families each week with food and hygiene items.  As of July 2022, we are an official partner with the Maryland Food Bank! 
If you or if you know of a family in need, please stop by our church on Tuesdays between 3:30 pm and 5:30 pm to pick up a Blessing Bag.
For more information, contact us at 410-639-2926 or outreach@rockhallsda.org.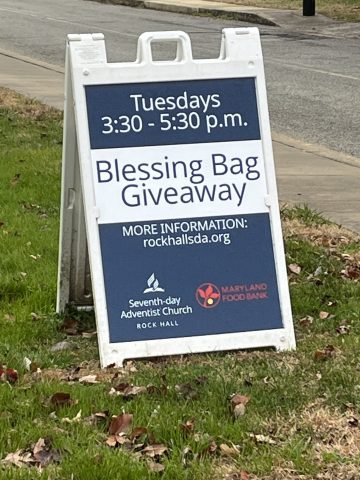 "Then the King will say to those on His right hand, 'Come, you blessed of My Father, inherit the kingdom prepared for you from the foundation of the world: for I was hungry and you gave Me food; I was thirsty and you gave Me drink; I was a stranger and you took Me in; I was naked and you clothed Me; I was sick and you visited Me; I was in prison and you came to Me.'"Matthew 25:34-36